Welcome to the Samurai Siege Cheats and Codes and Tips page where our team of contributors will help you with a set of cheats, codes, hints, tips and unlockables.
If you are stuck on something specific and are unable to find any answers on our Samurai Siege Cheats page then be sure to ask the Samurai Siege Forum / Community for help and advice in the discussion box below and they will get back to you as soon as possible with an answer!
Tips and Strategies
Singleplayer Battles
Although this game has an awesome mulitplayer function, it is also important that you complete the singleplayer battles to unlock new troops and advanced buildings. Playing the singleplayer also allows you to fine tune your fighting techniques and battle tactics.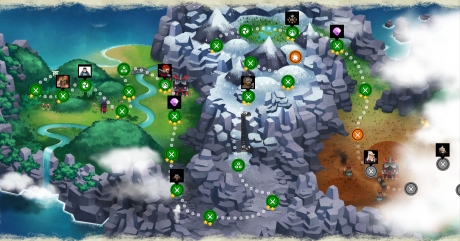 Easy Victory
If you destroy the enemies castle you will still win, even if all your troops die or you retreat. Focus on the castle for quick and easy wins.
Ninjas
Use Ninjas for quick-fire resource raid missions on other players as it is sometimes more important to replenish resources than it is to try and do 100% damage. Ninjas automatically target any and all resource buildings, so send in a huge pack of them for a quick resource raid, especially for more essence, as then you can train more troops. Ninjas are cheap and only take up one housing space.
Upgrade Your Essence
You will notice that as the game proceeds you have a lot of Jade Coins and nothing to spend them on, yet you dont have enough essence to upgrade any of the Jade Coin storages. Use them to upgrade the essence containers and then, when you will fill up your loaded essence containers, you will have more than enough even after all of your troop-trainning to upgrade other important buildings such as the castle.
Practice Yards
Strategy plays a huge part in winning battles, but as does numbers. By loading up on practice yards, then leveling them up, you are more likely to defeat your enemy. With enough practice yards even a foolishly rushed strategy of sending out tons of Samurai can destroy almost anybody.
Carpenter
At the start of the game diamonds are plentiful, but they will quickly go if used a lot and never come back. While you still have them, upgrade your carpenter shack to buy a third carpenter and even a fourth if you are a savvy saver. Once you have done this you will be able to do everything at twice the speed, all for free!
Blacksmith and Ancient Temple
Unlock the Blacksmith and Ancient Temple so you can use these buildings to upgrade troops. Every troop that you currently have in your practice yard will benefit if they are the troop type that you just upgraded and continue allowing you to use your favourite troops by doing this.
Put Your Buildings Close Together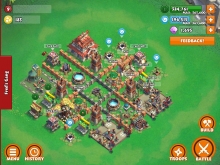 By putting your buildings closer together it will enable easier defense, as enemy troops will be within range of most defensive towers and they wont be able to get away.
As a bonus side effect, you can easily surround all your buildings with walls.
How to Cope with Holes in Your Walls
Once you have a hole in your wall, enemy troops will instantly be drawn to that area. If this happens, set up bomb traps and freeze traps to blow away any enemy that attempts to sneak through and boom, problem solved.
Get Wealthy on Easier Contenders
When you have low honor you get easier battles, collecting 80,000 coins and 90,000 essence off a poorly defended base. As you level up your honor the opponents also become more savy and getting wealthy off your attacks is rare. In these cases you want want to intentionally lose a bunch of multiplayer battles by under-training troops in as short of a succession as possible. You can then start annihalilating easier players and load up on resources.