Clumsy Ninja is a training simulation game where the player controls the hapless ninja using ragdoll physics to train him, learn tricks and special moves. Earn Ninja Belts, toss, throw, and tickle him all making him more skillful to help him find his missing friend, Kira.
Tasks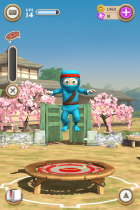 The player must help the Ninja complete tasks to earn experience, coins and gems, which you can spend in the game.
Leveling Your Ninja
Leveling up the Ninja allows him to make use of new objects and equipment and learn new moves. The Ninja can earn XP in many ways, from the player simply tickling him or throwing balls at him to training with objects such as a punching bag or a trampoline. The Ninja earns higher ranks in the form of new belts.
Coins & Gems
Coins and gems can be earned through training and participating in quests and daily bonuses and are used to buy items, special costumes and repair training tools. Coins and gems can also be purchased through the game's in-game store.
Coins are earned in-game. Taking part in activities and mastering them will result in coin bags. They can be used to purchase basic training tools and costumes. When your level is high enough you'll also be able to buy animals that will earn you more coins in the long run.
Gems are earned when you level up and are much harder to come by than coins and don't accumulate as quickly. They can instantly open up training items, buy special costumes, or repair damaged training tools.
Quests
You can also ask your sensei for quests by going to the dojo and tapping the book icon in the lower left corner. This allows the Ninja to travel the world as well as level up and unlock items.
Buying New Training Tools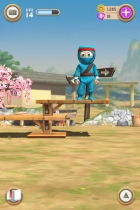 At the bottom right of the screen is an arrow that can be pressed to gain access to your training tools, fun stuff, and settings.
Among the training tools available are trampolines and punching bags. The cheaper the cost of the tool, the less XP and coins are earned and there are many types of each.
For example, the First Jumper trampoline costs nothing, but only provides 100 XP and 5 coins. The Spring Morning trampoline, however, will run you 70 coins (or 6 diamonds) but will award 300 XP and earn the player 20 coins. Eventually purchasing the Golden Dragon trampoline will require a hefty 150,000 coins (or 70 diamonds) but will reward the player with a whopping 80,000 XP and 5,000 coins.
Playing is addictive, but tools are worn out after using them and must be repaired. Repairing can be done by the Sensei and the time needed depends on the item, but you can also spend coins or gems on them to get use of them quicker.
Taking Snapshots
In the upper left side of the screen is a camera, where you can take a picture of your ninja and share it with others on Facebook or Twitter. You can also download snapshots to your device's album.