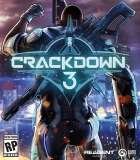 Crackdown is a open world third-person shooter game being developed by David Jones exclusively for the Xbox One.
It is the third game in the Crackdown series and features even more cooperative mayhem and destruction that the series is known for.
Crackdown 3 Brainwaves
5th June, 0 replies

Microsoft announced that a new Crackdown game was in development at last year's E3. Now, Xbox boss Phil...

10th June, 1 replies

2007's Crackdown by was one of the early great exclusives for the Xbox 360. A sequel in 2010 underperformed,...
Share Crackdown 3 with others