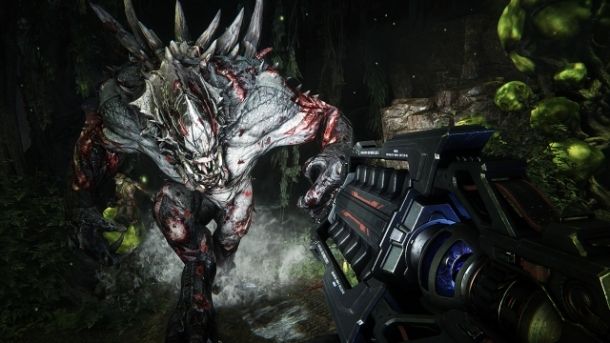 In a post on the official forums, Turtle Rock Studios has announced that Evolve will be going free to play on PC, along with a variety of other changes:

"We're going to make Evolve free on PC as a Beta starting on July 7. This is going to allow us to hit our new server infrastructure really hard and we need your help testing. Stuff could break, and that's our hope, because that will give us time to improve things as we go. We'll parse out major Beta revisions, updates and features over a period of weeks and months -- a plan we're going to continually communicate here.

This allows us to test new features and major changes to make our game more accessible and ever closer to the joy we saw when we first showed our baby to the world. Just as importantly, this Beta plan gives us the flexibility and time we need to keep fixing bugs and making Evolve more stable."

Furthermore, anyone who has already purchased Evolve on PC will be given a "Founder" status, which includes any content they already bought.

The countdown found on the official Evolve website which we reported on earlier is scheduled to end tomorrow and may very well involve more details on Evolve going free to play.


Related Brainwaves
29th November

Sony recently announced lifetime shipment figures for the PlayStation 4 have surpassed 102.8 million units as of September 30, 2019. That puts shipment...

26th August

Despite the many post apocalyptic open-world games available today, I'm yet to play one inspired by kung-fu movies. Enter Experiment 101's Biomutant, a...