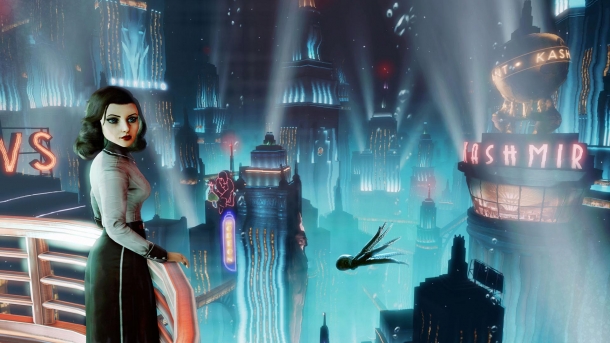 We're all excited about BioShock Infinite's upcoming DLC set in Rapture, the underwater hellhole city that we know and love, but now we've got even more reasons to be so - as it seems we'll finally get a chance to play as the game's deuteragonist, Elizabeth.

It hasn't been revealed how Booker and Liz will find themselves in Rapture but we do know for sure that this DLC will follow on from their Infinite adventure: they're not some alternate reality variants.

"Liz in Rapture is very much a continuation of the Liz that we saw in Infinite," Amanda Jeffrey explained. "This is not some brand new, 'we have no idea who this person is'."

"She is very much Elizabeth,' creator Ken Levine elaborated 'but also has a character. She's affected. She's definitely changed by what she's done. I will say certainly you are picking up after the events of Infinite, and this is a person who has seen all the things you've seen in Infinite, and that's had an effect on her."

Now, any gamer knows that with great power comes great opportunity; so the question on everyone's minds at this point should be, "Are we going to get to use her tear powers?" Worry not - because Levine has confirmed that we are (although how powerful they'll be has yet to be determined).

"We're still trying to work out exactly how extensive Liz's tear abilities will be in the playable Liz sequence," says Jeffrey. "She will have far more powerful ways of interacting with the world than we saw in Infinite proper, but at the same time, it won't just be a case of walking to a space and going, 'I'm just going to press a button, and now happy ending for everyone!'

"Liz is such a different character to Booker, and if we were to just put Booker in a dress, then that would be the most awful betrayal of what we're doing for Liz," Jeffrey concluded. We would be betraying her character again if suddenly she's got these huge biceps and she's running around the place with an enormous machine gun.

"Elizabeth has to take things more from the side view. She needs to be kind of thinking in a roundabout way of how to deal with her enemies. And, sometimes, that might mean completely bypassing the enemy entirely, because she doesn't need to. It may mean, in another situation, using the enemy's strength against them. There's all of these different kinds of ways of being more thoughtful, and - I hesitate to say it - almost more feminine way of approaching a problem, where there's all of these people and, to be very brutally honest about it, they have the advantage in strength. But Elizabeth has the advantage in smarts."

So, everything looks great for Burial at Sea on the gameplay front. The only questions remaining are really about how, if these two remember something of their shared past, they wound up in Rapture before its fall. I guess we'll find out in due time.