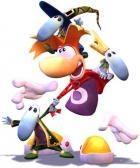 Rayman is the main protagonist in the Rayman series of games.
Players typically control Rayman as if playing a 2D or 3D platformer, with Rayman being the primary character in the games.
Rayman Brainwaves
1st August, 0 replies

Before Assassin's Creed turned into the mega franchise it is today, Ubisoft was best known for its...

11th December, 1 replies

Ubisoft have confirmed a February 28th, 2014 release for Rayman Legends on the PlayStation 4 and Xbox...

12th November, 1 replies

Ubisoft CEO Yves Guillemot announced a Rayman game would come to the Xbox One and PlayStation 4 in February....