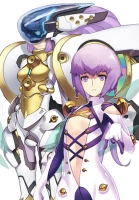 Tyria is the third Origin Reyvateil and Administrator of the Third Tower in Ar tonelico Qoga: Knell of Ar Ciel. Her creation was designed to create a Reyvateil that had a mental and spiritual depth far higher than any other. This would allow her to serve as a mediator between the Planet Ar Ciel and the humans, in order to implant a new Core into the planet after the current one was cracked in the Seven Bloodstains Incident.
Aoto's group first comes across Tyria in the Lymph Vessel, where she recognizes Filament as one of the Wills of the Planet, and tells that party to head to the Rinkernator and find her. Wishing to extend Finnel and Saki's life, the party headed to the tower and revived Tyria, who agreed to repair the pair. She later joins the party to regain the song needed for the Planet's regeneration.
Latest Games
Developed by Gust Co. Ltd. for PS3

Ar tonelico Qoga: Knell of Ar Ciel is a role-playing game developed by

Gust

for the

PlayStation 3

. It is the third and final installment in the

Ar Tonelico series

and takes place in the third tower of Ar Ciel, in the Reyvateil-ruled country of Clustania, located in an area known as Sol Cluster.