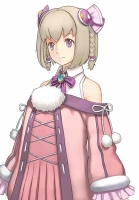 Saki is a γ Sublimated Reyvateil and one of the main heroines in Ar tonelico Qoga: Knell of Ar Ciel. Created in the Archia Think Tank as part of the Human Evolution Project, she was designed to be extremely powerful, but would have a shortened lifespan as a result.
Before the project could execute by the Archia Think Tank chariman, Raphael, Kiraha, the lead researcher of the Planet Regeneration Project, rescued Saki and went into hiding. Three years later, Saki, overwhelmed with emotions due to her surrogate mother's death, activates her Miracles and unwittingly reveals her location. It is then that Aoto finds Saki and a wounded Kiraha in Paper Scissors.
Latest Games
Developed by Gust Co. Ltd. for PS3

Ar tonelico Qoga: Knell of Ar Ciel is a role-playing game developed by

Gust

for the

PlayStation 3

. It is the third and final installment in the

Ar Tonelico series

and takes place in the third tower of Ar Ciel, in the Reyvateil-ruled country of Clustania, located in an area known as Sol Cluster.
Saki (Ar Tonelico) Brainwaves
Share Saki (Ar Tonelico) with others