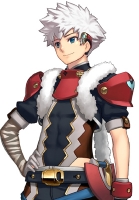 Aoto is a steeplejack apprentice and the main protagonist of Ar tonelico Qoga: Knell of Ar Ciel. He was training to be a steeplejack under the guidance of Steeps, his foster father, when he meets Saki, a mysterious woman who has no idea who she is. Stuck in a struggle between Archia and Clustania, Aoto takes Saki to Hikari Gojō, a doctor specialized in Reyvateils.
Undaunted by seemingly absolute hopelessness and a strong sense of responsibility, he never surrenders to his will and he keeps trying. That is probably why he is loved and supported by so many people that he encounters.
Latest Games
Developed by Gust Co. Ltd. for PS3

Ar tonelico Qoga: Knell of Ar Ciel is a role-playing game developed by

Gust

for the

PlayStation 3

. It is the third and final installment in the

Ar Tonelico series

and takes place in the third tower of Ar Ciel, in the Reyvateil-ruled country of Clustania, located in an area known as Sol Cluster.