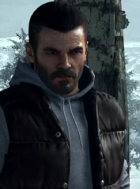 Alex Mason is the main protagonist in Call of Duty: Black Ops, as well as being one of the main protagonists in Black Ops II. He was born in Fairbanks, Alaska, to a retired World War II vet, which he hunted elk and grizzlies with in the wildnerness. Because of the close proximity to Communist Russia and his previous hunting experience, he would eventually join the US Marines and become an excellent marksman.
Latest Games
Developed by Certain Affinity, Treyarch for WIN, DS, PS3, Wii, X360

Call of Duty : Black Ops is a first person shooter developed by

Treyarch

, and published by

Activision

. The game was announced on April 30, 2010 and released on November 9, 2010 for Xbox 360, PS3, Wii and Microsoft Windows. There was also a separate version developed for the Nintendo DS which was developed by

n-Space

.
Share Alex Mason with others