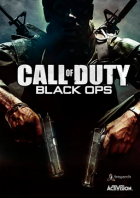 Call of Duty : Black Ops is a first person shooter developed by Treyarch, and published by Activision. The game was announced on April 30, 2010 and released on November 9, 2010 for Xbox 360, PS3, Wii and Microsoft Windows. There was also a separate version developed for the Nintendo DS which was developed by n-Space.
The game was a huge commercial hit, selling more than 5.6 million copies within 24 hours. It broke the sales record set by it's predecessor, Call of Duty: Modern Warfare 2. According to Activision the game earned $1 billion in sales in six weeks. Activision later confirmed that the game had sold over 25 million copies worldwide, making it the best-selling game in the US, UK and Europe.
Call of Duty: Black Ops Brainwaves
16 days ago, 0 replies

Microsoft has announced this week's Deals with Gold for Xbox Live Gold members. There are two games on...

22 days ago, 0 replies

If Batman: Arkham Knight's season pass pricing made you gulp then you might want to brace yourself for...

25 days ago, 0 replies

Activision announced Call of Duty: Black Ops III over the weekend. Retailer GameStop today announced...
Share Call of Duty: Black Ops with others