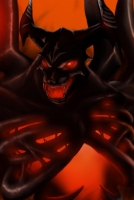 Shadow Fiend is a character found in the video game Dota 2. He is a ranged agility hero who fights for the Dire faction.
His abilities give him the potential to dish out incredibly high amounts of burst physical and magical damage. His farm and experience-greedy nature, as well as his ability to eventually dominate a lane and quickly clear creep waves makes him a popular mid hero, although he is sometimes played as a safe lane carry.
Shadow Fiend (Dota 2) Brainwaves
24th September, 0 replies

Patch 6.82 has just been released for Dota 2. Also known as the 'Rekindling Soul' update, it brings with...
Share Shadow Fiend (Dota 2) with others