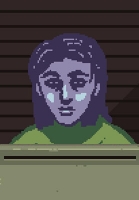 Elisa Katsenja is the woman that Sergiu Volda met and fell in love with during his time in Kolechia in Papers, Please. Informed that Elisa is coming to Arstotzka, Sergiu, if alive, asks the Inspector to let her pass without the proper papers. If allowed to pass, Elisa and Sergiu will embrace each other on the East Grestin side of the border.
Latest Games
Papers, Please is a simulation game developed by

Lucas Pope

and published by

3909 LLC

for

Microsoft Windows

and

Mac OS

. The game follows an immigration inspector who must monitor the potential threats and citizens entering the fictional country of Arstotzka.
Elisa Katsenja Brainwaves
Share Elisa Katsenja with others