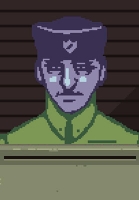 Sergiu Volda is a guard who is stationed at the East Grestin border of Arstotzka and a minor character in Papers, Please. Like the Inspector, Sergiu is from the town of Nirsk. and was once a soldier during some unkown war in Kolechia. While in Kolechia, Sergiu fell in love with a young woman named Elisa Katsenja and wishes to see her again.
Latest Games
Papers, Please is a simulation game developed by

Lucas Pope

and published by

3909 LLC

for

Microsoft Windows

and

Mac OS

. The game follows an immigration inspector who must monitor the potential threats and citizens entering the fictional country of Arstotzka.
Share Sergiu Volda with others