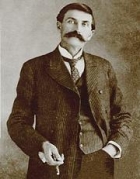 Pat Garret is a well known lawman from the Wild West era of American history who was credited with killing the notorious criminal Billy the Kid.
He was born on June 5, 1850 and died on February 29, 1908. He was a well dressed man with brown hair that had a rough mustache. He was a lawman, bartender, and customs agent.
Latest Games
Developed by Techland for WIN, PS3, X360

Call of Juarez: Gunslinger is a first-person shooter and the fourth title in the

Call of Juarez series

. It sees the series return to the Wild West with an all-new protagonist and three unique game modes.
Share Pat Garret with others