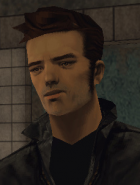 Claude, who has no official last name, is the main protagonist of Grand Theft Auto III. He is silent and shown to be very loyal to whoever he works for, showing no qualms or complaints to his bosses, as well as almost no emotion at all. He is betrayed by Catalina at the beginning of GTA3 and left for dead, with Claude's sole mission in the game to hunt her down to exact revenge.
His first chronological appearance was as a minor character in Grand Theft Auto: San Andreas, where he is seen to be with Catalina. The game shows that he was born in San Fierro and he ends up racing against Carl Johnson, only to lose and give up his garage in Doherty. After this, he ends up moving to Liberty City with Catalina, where the events of GTA3 take place.
Latest Games
Developed by Rockstar North for AND, iOS, MAC, WIN, PS2, PS3, , XB, X360

Grand Theft Auto: San Andreas is a sandbox action-adventure game developed by

Rockstar North

for the

PlayStation 2

,

Xbox

, and

PC

. It was released for the PS2 on October 26, 2004 for North America, October 29, 2004 for Europe and January 25, 2007 for Japan.
Share Claude (GTA3) with others