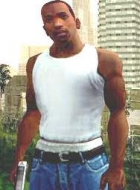 Carl "CJ" Johnson is the main protagonist of Grand Theft Auto: San Andreas. He is the brother to Sean Johnson and Kendl Johnson, as well as a member of the Grove Street Families, a gang that is based in Los Santos.
Carl has shown to be less ruthless and cold-blooded than previous GTA protagonists, giving some of the people he kills a chance to redeem themselves. He is naive and inexperienced, leading some of the characters to question his intelligence in-game. He is also loyal to his humble beginnings, showing this to the Grove Street Families gang.
Latest Games
Developed by Rockstar North for AND, iOS, MAC, WIN, PS2, PS3, , XB, X360

Grand Theft Auto: San Andreas is a sandbox action-adventure game developed by

Rockstar North

for the

PlayStation 2

,

Xbox

, and

PC

. It was released for the PS2 on October 26, 2004 for North America, October 29, 2004 for Europe and January 25, 2007 for Japan.
Share Carl Johnson with others