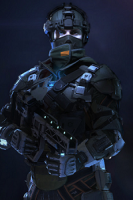 Lucas Kellan is a Shadow Marshal and the main protagonist in Killzone: Shadow Fall. He and his father were amongst tens of thousands of Vektans being deported by the Helghast to the other side of the Vektan Wall, following the events of Killzone 3, which left Helghan uninhabitable. While trying to secretly cross to the other side, they were caught by a Helghast drone, which eventually resulted in his father being shot and killed. Before being killed himself, he was rescued by Sinclair and would end up training to become a Shadow Marshal.
Latest Games
Developed by Guerrilla Games for PS4

Killzone: Shadow Fall is a first-person shooter that is developed by

Guerrilla Games

, exclusively for the

Playstation 4

. It is the sxith entry in the Killzone series and set to launch with the Playstation 4 on November 15, 2013 in North America. It will also launch with the system on November 29, 2013 in Europe and February 22, 2014 in Japan.
Share Lucas Kellan with others