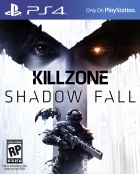 Killzone: Shadow Fall is a first-person shooter that is developed by Guerrilla Games, exclusively for the Playstation 4. It is the sxith entry in the Killzone series and set to launch with the Playstation 4 on November 15, 2013 in North America. It will also launch with the system on November 29, 2013 in Europe and February 22, 2014 in Japan.
The game takes place 30 years after the events of Killzone 3. Set in an era of interplanetary colonization, it focuses on the conflict between the Vektans and the Helghast, two rival colonist factions inhabiting a distant planet. For three decades, both factions have lived side by side, separated by an enormous security wall – but now their cold war is about to go hot.
Killzone: Shadow Fall Brainwaves
16th September, 0 replies

Apparently concept art has been leaked on a Chinese forum for Guerrilla Games' next game, a new IP called...

7th August, 1 replies

A lawsuit has been filed against Sony Computer Entertainment America by Californian resident Douglas...

15th June, 0 replies

Myself and gamrReview Editor-in-Chief Karl Koebke took the time to check out Killzone: Shadow Fall's...
Share Killzone: Shadow Fall with others