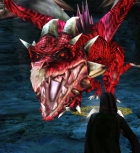 Sheba is one of four dragons in Aralon: Sword and Shadow HD and, in this player's opinion, is the most difficult enemy to kill in the game. Once she has been defeated, however, a player will attain the dragonslayer status as well as receive some great loot. Killing Sheba is not part of any quest that I have encountered, but it is worth seeking her out and defeating her in my opinion.
Sheba was not part of the original game but was added as part of the September 7, 2011 (for the iPod/iPhone/iPad user) update and was classified as a dragon uber-boss. While Icefang is leveled higher than she is (50 to her 45), this player has found that it is still much harder to kill Sheba than Icefang. In order to even reach her Lair, players must use either Helga's Ring or Greenfin Stew. Once they are inside, it is impossible to leave except by teleportation to somewhere else (i.e. Callaheim, Karn, Redrock Bay or the second outland). Her Lair is located near the end of Shadowspire Mines, too, and she should be fought after retrieving Icefang's egg from Ashmore. Thus, getting to, defeating and getting away from Sheba's Lair is quite an achievement in and of itself.
Latest Games
Developed by Crescent Moon Games for AND, iOS

Aralon Sword and Shadow was developed by Crescent Moon Games and Galoobeth Games and is available to play on the iPhone, iPad and Android platforms. The game was originally released on December 4, 2010 and several updates have occurred since then, the latest occurring on June 24, 2013 (for Android). These updates have added new areas to explore, mounts, quests, weapons and armor to name a few. Aralon is an epic 3D role-playing adventure that focuses on a compelling story in an open world ready for exploration.
Sheba (Aralon) Brainwaves
Share Sheba (Aralon) with others