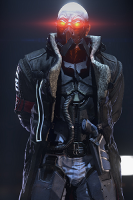 Saric is the leader of the Helghast Security on Vekta in Killzone: Shadow Fall. He has an intense hatred for the Vektans, since he believes it is their fault that Helghan was destroyed, something he witnessed when he was a child.
Latest Games
Developed by Guerrilla Games for PS4

Killzone: Shadow Fall is a first-person shooter that is developed by

Guerrilla Games

, exclusively for the

Playstation 4

. It is the sxith entry in the Killzone series and set to launch with the Playstation 4 on November 15, 2013 in North America. It will also launch with the system on November 29, 2013 in Europe and February 22, 2014 in Japan.
Share Anton Saric with others