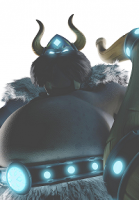 Lord Fredrik is a character from Donkey Kong Country: Tropical Freeze and is the main antagonist and final boss. He is the walrus King of the Snowmads and is responsible for freezing Donkey Kong's home island and leaving it covered in ice and snow.
While Donkey Kong celebrates his birthday with his friends, Lord Fredrick and the Snowmads come to DK Island on a flagship. He blows his massive horn, unleashing an icy dragon which freezes over DK Island and procedes to blow away the Kongs. His ship takes flight and docks atop a volcano. Lord Fredrick attacks Donkey Kong with ice attacks from his horn, as well as jumping attacks with his large body.
Latest Games
Developed by Retro Studios for WiiU

Donkey Kong Country: Tropical Freeze is a platform game developed by

Retro Studios

for

Wii U

. It is the fifth installment in the

Donkey Kong Country

series and the first entry in the series to be truly HD. It was released worldwide in February of 2014.
Share Lord Fredrik with others