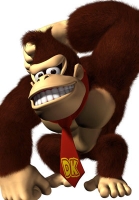 Donkey Kong (DK) is a fictional gorilla appearing in the Donkey Kong and Mario video game franchises. A popular character, he has appeared in many video games. Donkey Kong was Mario's first opponent in Nintendo's popular 1981 arcade game, Donkey Kong.
Donkey Kong Brainwaves
6 days ago, 0 replies

After the success of Wreck it Ralph, it perhaps shouldn't come as a great surprise to hear that more...

19th December, 0 replies

Announced today via Nintendo of America's official Twitter, the groovy Kong family member that provided...

18th December, 0 replies

Following up on Nintendo's announcement of Cranky Kong being a playable character in Donkey Kong Country...
Share Donkey Kong with others