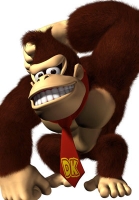 Edit Character
Donkey Kong (DK) is a fictional gorilla appearing in the Donkey Kong and Mario video game franchises. A popular character, he has appeared in many video games. Donkey Kong was Mario's first opponent in Nintendo's popular 1981 arcade game, Donkey Kong.
Donkey Kong Brainwaves
15th October, 0 replies

With the popularity and good sales of Donkey Kong Country Returns, which not only saw a Wii release,...

1st October, 0 replies

Originally set to release this November, Donkey Kong: Tropical Freeze is now set for a February 2014...

11th June, 2 replies

Nintendo isn't about to let Donkey Kong rest just yet. After a packed few years he's set for yet another...
Share Donkey Kong with others