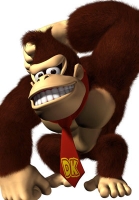 Donkey Kong (DK) is a fictional gorilla appearing in multiple games in the Donkey Kong franchise. Conceived by Nintendo game designer, Shigeru Miyamoto, Donkey Kong first appeared in the classic 1981 arcade game, Donkey Kong. He was the antagonist character who kidnapped a girl named Pauline, who the player was tasked with saving using a character simply called "Jump Man," who later became the iconic game character known as Mario. The Donkey Kong arcade game is attributed to introducing two of the most popular game characters of all time.
Since his debut, Donkey Kong has gone on to be in a variety of different games and genres, including a playable protagonist in a multitude of different titles, such as the Donkey Kong Country and Donkey Kong Land series. He has also been featured in several Mario-themed games, including Mario Kart, Mario Tennis and Mario Golf among many others. He is also a featured character in Nintendo's Super Smash Bros. series and has also starred in the music game Donkey Konga as well as the Mario vs. Donkey Kong games.
Donkey Kong Brainwaves
29th August, 1 replies

Today Nintendo announced that each Amiibo figure will cost $13, and that the first wave of Amiibos will...

22nd July, 0 replies

After the success of Wreck it Ralph, it perhaps shouldn't come as a great surprise to hear that more...

19th December, 0 replies

Announced today via Nintendo of America's official Twitter, the groovy Kong family member that provided...
Share Donkey Kong with others