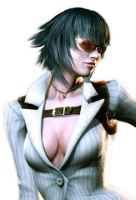 Lady is a character from the Devil May Cry series of games, with her first appearance being Devil May Cry 3: Dante's Awakening. She was born with the name Mary, but she renounced that name when her father, Arkham, killed her mother in order to become a demon. She became a Devil Hunter because of that, with her goal being to eliminate every last demon.
She uses a rocket launcher, named the Kalina Ann, as her primary weapon. It has her mother's name etched into the handle and the bayonet can be used as a grappling hook or melee weapon. Lady has a fierce and rough personality, although she tends to show a softer side when around Dante, on whom she seems to have a crush. This is evident when Trish is around, as she shows some jealousy.
Latest Games
Developed by Capcom for WIN, PS2

Devil May Cry 3: Dante's Awakening is a hack and slash video game, being the third game in the

Devil May Cry series

, released on February 17, 2005 in Japan originally for

PlayStation 2

and then converted to

Windows

.The story takes place chronologically before

Devil May Cry

and shows the reason for the fight between the twins Dante and Vergil and how the hero became a famous demon hunter. Devil May Cry 3 was voted one of the best action games of all time and received very high grades in reviews worldwide. The game is considered by many fans the best of the series.
Share Lady (DMC) with others