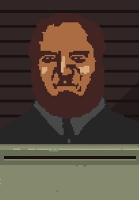 Father is a vengeful man seeking justice against his daughter's murderer in Papers, Please. Knowing that his daughter's killer, Simon Wens, plans to escape punishment in the United Federation by crossing into Arstotzka, the father seeks help from the Inspector by begging to let Wens pass into Arstotzka so he can kill him himself.
Latest Games
Papers, Please is a simulation game developed by

Lucas Pope

and published by

3909 LLC

for

Microsoft Windows

and

Mac OS

. The game follows an immigration inspector who must monitor the potential threats and citizens entering the fictional country of Arstotzka.
Father (Papers, Please) Brainwaves
Share Father (Papers, Please) with others