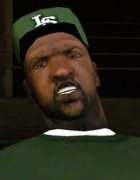 Sean "Sweet" Johnson is the older brother of Carl Johnson, and a major character in Grand Theft Auto: San Andreas. He becomes the leader of the Grove Street Families gang in 1985, which is in Ganton, Los Santos. However, the gang goes into a decline while Carl moved Liberty City after the death of their brother, Brian.
Sweet is very selfish and distrustful of Carl, going so far as to blame him for the deaths of their other brother and even their own mother, even if the Ballas were likely targeting him. This attitude towards CJ goes on throughout the entire game, even when Sweet got out of prison and CJ mentions his wanting to get off the streets.
Latest Games
Developed by Rockstar North for AND, iOS, MAC, WIN, PS2, PS3, , XB, X360

Grand Theft Auto: San Andreas is a sandbox action-adventure game developed by

Rockstar North

for the

PlayStation 2

,

Xbox

, and

PC

. It was released for the PS2 on October 26, 2004 for North America, October 29, 2004 for Europe and January 25, 2007 for Japan.
Share Sean Johnson with others