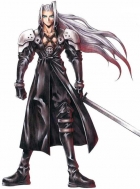 Sephiroth is the main antagonist of Final Fantasy VII.
Five years before the events of the game, Sephiroth was thought to be dead. His real parents are Hojo and Lucrecia, although Sephiroth thinks his mother is Jenova. Actually, it was that he was injected with Jenova cells, which gives him his superb power.
Sephiroth Brainwaves
28th January, 7 replies

Usual choices but mine is probably Solid Snake - he's just so damn cool and you can really feel like...
Share Sephiroth with others