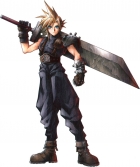 Cloud Strife is the main protagonist of Final Fantasy VII, as well as appearing in other games and media concerning FFVII. He is known for his signature spiky blonde hair, as well as the huge Buster Sword he carries as his main weapon.
He was born in Nibelheim and was neighbors with Tifa Lockhart, whom he had promised to save if she was ever in trouble. He decides he wants to become like Sephiroth and tries to join SOLDIER, but ultimately fails in doing so. He inherits the Buster Sword from Zack Fair at the end of Crisis Core: Final Fantasy VII.
Cloud Strife Brainwaves
17th December, 1 replies

Lightning Returns has been out for a few weeks in Japan and, today, DLC is being released for the game. According...

28th January, 7 replies

Usual choices but mine is probably Solid Snake - he's just so damn cool and you can really feel like...
Share Cloud Strife with others