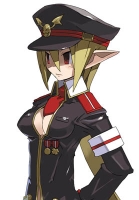 Salvatore the Magnificent is a Senior student and one of the legendary Diez Gentlemen in Disgaea 3: Absence of Justice. When she confronts Mao and Master Big Star, supposedly killing Geoffrey, Mao's dark side awakens. She later learns that Geoffrey, whom she was taking orders from, is actually the Super Hero Aurum.
Salvatore has a military personality of unparalleled ruthlessness, though she's not part of any actual military. She's always giving out absurd orders and has respect for opponents that are stronger than herself and she dislikes jokes and any vulgar conduct.
Latest Games
Developed by Nippon Ichi Software for PS3, PSV

Disgaea 3: Absence of Justice is a tactical RPG and the third video game in the

Disgaea series

by

Nippon Ichi

, and the first to be released on the

PlayStation 3

. Like previous installments, battles are performed on isometric maps with a group of characters. The newly added "magichange" system allows monsters to transform into specific weapons in which a partner can use to execute a strong technical attack.
Salvatore the Magnificent Brainwaves
Share Salvatore the Magnificent with others
Salvatore the Magnificent