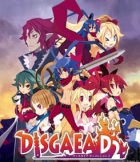 Disgaea D2: A Brighter Darkness is an upcoming Japanese tactical RPG developed by Nippon Ichi Software for the Playstation 3. Designed to be a direct sequel to Disgaea: Hour of Darkness, the game will follow the main characters of the first game rather than those that appear later in the Disgaea series.
Laharl is now Overlord of the Netherworld and has taken his father's place on the throne. However, the demons have no respect for him and a group of demons called the King Krichevskoy faction are trying to usurp him and put someone more suitable on the throne.
Disgaea D2: A Brighter Darkness Brainwaves
15th June, 0 replies

The Disgaea series is one of the most well known and loved games in the Strategy RPG genre and for good...
Share Disgaea D2: A Brighter Darkness with others
Disgaea D2: A Brighter Darkness