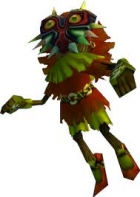 Edit Character
Skull Kid originally appeared in Ocarina of Time on the N64, and later appeared in Twilight Princess on the Wii and Gamecube as an enemy in the Lost Woods. He can also be found hidden in places throughout the Lost Woods in Twilight Princess.
Latest Games
Developed by Nintendo EAD for GC, NGC, GCN, Wii

The Legend of Zelda: Twilight Princess is an action-adventure game developed by

Nintendo EAD

and published by Nintendo for the

GameCube

and

Wii

consoles. It is the thirteenth installment in The Legend of Zelda series.
Share Skull Kid with others