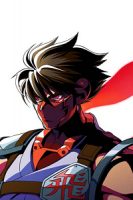 Strider Hiryu is the primary protagonist in the Strider series of video games. The character also appears in numerous cross-over titles, including the Marvel vs. Capcom series.
An elite member of a futuristic group of high-tech ninjas, Strider specialises in espionage, sabotage, and assassinations.
Strider Hiryu Brainwaves
8th October, 0 replies

Between this and Yaiba: Ninja Gaiden Z, it seems like 2014 is going to be a good year for ninja games. You...
Share Strider Hiryu with others