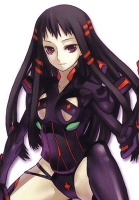 Mir, later known as Jacqli, is the main antagonist of Ar tonelico: Melody of Elemia and a playable character in Ar tonelico II: Melody of Metafalica. Designed by her creators to be unemotional and the strongest Reyvateil in the world, she eventually became emotionally irate when the human relegated her to the task of the Reyvateil Control System. Mir's last straw occurred when she tried to escape with her lover, Ayatane Michitaka, and he was killed. This started a war between Mir and the humans that ended up with her sealed by the Hymnos Chronicle Key.
In Ar tonelico: Melody of Elemia, Mir is allowed to escape her imprisonment when Misha Arsellec Lune stops singing the Chronicle Key. With the help of the reincarnated Ayatane, she continue her war against the humans. She is eventually defeated and shown compassion, changing her opinion of humans.
Latest Games
Developed by Gust Co. Ltd. for PS2

Ar tonelico II: Melody of Metafalica is a role-playing game developed by

Gust

for the

PlayStation 2

. It is the second installment in the

Ar Tonelico series

and takes place in the second tower of Ar Ciel, located in an area known as Metafalss.
Share Mir / Jacqli with others