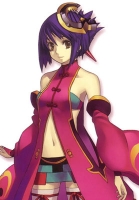 Luca Trulyworth is a childhood friend of Croix Bartel and one of the heroines in Ar tonelico II: Melody of Metafalica. She is the adopted daughter of Reisha and Batz Trulyworth, with her real mother being Lady Arshe, the 32nd Holy Maiden of Pastalia. Taken away for her protection from Alfman Uranous, she was hiden away until her sister, Leyka, contracted IPD and was taken away by Dr. Laude. This lead Luca's desire to reach Pastalia, dating Criox purely for this reason. Unfortunately, he leaves he behind until they meet again six years later.
Working as a Dive Therapist in Rakshek, Cloche Leythal Pastalia, the 33rd Holy Maiden, considers Luca's job dirty and unscrupulous. Despite this, Luca becomes the only onw who can heal IPD Reyvateils.
Latest Games
Developed by Gust Co. Ltd. for PS2

Ar tonelico II: Melody of Metafalica is a role-playing game developed by

Gust

for the

PlayStation 2

. It is the second installment in the

Ar Tonelico series

and takes place in the second tower of Ar Ciel, located in an area known as Metafalss.
Luca Trulyworth Brainwaves
Share Luca Trulyworth with others