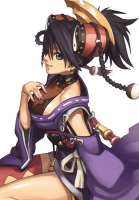 Misha Arsellec Lune is a Pureblooded β-Type Reyvateil, the Star Singer, and one of the heroines in Ar tonelico: Melody of Elemia. As the Star Singer, her main purpose in life is to sing the song Chronicle Key, which keeps Mir sealed away.
Despite being childhood friends with Lyner Barsett, he doesn't remember her at first when they meet in Tenba. She is a good cook and very childish at times, one of the main reasons she abandoned her duty of singing the Chronicle Key.
Latest Games
Ar tonelico: Melody of Elemia is a role-playing game developed by

Gust

for the

PlayStation 2

. It is the first installment in the

Ar Tonelico series

and takes place in the first tower of Ar Ciel, the Tower of Eoria, in the former nation of El Elemia, with the Reyvateil

Shurelia

as its administrator.
Misha Arsellec Lune Brainwaves
Share Misha Arsellec Lune with others