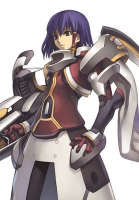 Croix Bartel is a Knight of Grand Bell and the main protagonist of Ar tonelico II: Melody of Metafalica. Orphaned when he was four, he was adopted by Reisha Trulyworth and therefore grew up alongside Luca Trulyworth. Although he started a relationship with Luca, she was only using him to get to Pastalia and was left behind when he became a Grand Bell Knight. He quickly made a reputation for himself and was tasked with IPD containment jobs, where he found and adopted a young girl named Cocona.
His missions eventually leads back to Rakshek Resort, where an IPD outbreak has threatened the Holy Maiden of Pastalia's vacation plans. Taking Cocona along, Croix finds himself caught in a rapidly-escalating civil war and directly protecting Lady Cloche Leythal Pastalia himself.
Latest Games
Developed by Gust Co. Ltd. for PS2

Ar tonelico II: Melody of Metafalica is a role-playing game developed by

Gust

for the

PlayStation 2

. It is the second installment in the

Ar Tonelico series

and takes place in the second tower of Ar Ciel, located in an area known as Metafalss.
Share Croix Bartel with others