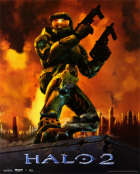 Halo 2 is a first-person shooter video game developed by Bungie Studios. Released for the Xbox video game console on November 9, 2004, the game is the second installment in the Halo franchise and the sequel to 2001's critically acclaimed Halo: Combat Evolved.
Halo 2 Brainwaves
10 days ago, 0 replies

Halo: The Master Chief Collection brings together all four numbed games in the Halo series to the Xbox...

9th June, 0 replies

Microsoft's 2014 E3 conference is ongoing, and you can check out our live updates of all the announcements...

24th May, 0 replies

With E3 fast approaching, the excitement for gaming's largest showcase is definitely building amongst...