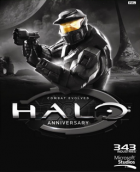 Halo: Combat Evolved, also referred to as Halo: CE or simply Halo is a First-Person shooter released for the original Xbox on November 14, 2001 as a launch title for the platform. It quickly shot to popularity even finding a significant amount of mainstream recognition (for the time). It became popular for LAN Network play and the punishing difficulty of its Legendary mode. Its release and success spawned a full fledged franchise with games, toys, books, a live action TV series, and more.
Nearly 10 years later to the day (Nov 15, 2011), the Anniversary edition of Halo: Combat Evolved was released called Halo: Anniversary or Halo: CEA by the newly minted 343 Industries. This game sported many updated features such as new graphics and achievement support but this was all layered on top of the original game, allowing the player to switch between graphics engine and essentially play the same exact game as the original.
Halo: Combat Evolved Brainwaves
22 hours ago, 0 replies

With Halo: The Master Chief Collection fast approaching its release date, Microsoft have released a new...

10 days ago, 0 replies

343 Industries have replied to fan complaints concerning Halo: The Master Chief Collection's requirement...

13 days ago, 0 replies

343 Industries have revealed that players will need to download a day one patch of 20GB in order to play...
Share Halo: Combat Evolved with others