Angry Birds is a strategy puzzle game with the simple goal of using the given number of birds to fling towards the structures and destroy all the pigs.
Scoring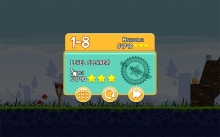 By destroying all the enemies and destroying the buildings you will earn points. The faster and more effective you do this, the more points and stars you will gain.
- (expand pts for left over birds and damage)
Power Ups
Power ups are designed to help improve your scores and you complete levels. There are four different power ups in the game, which are limited to two uses per level.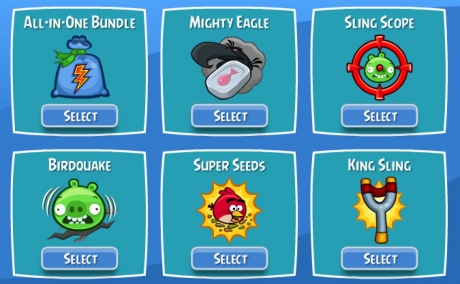 Power-Ups are limited and running out means you have to purchase more with real money.
Super Seed: Super Seeds turn any bird bigger and tougher. When the bird is shot out, it is able to hit more targets and destroy structures easier.
King Sling: The King Sling upgrades your slingshot. When this King Sling is used, the slingshot can shoot birds faster and further.
Sling Scope: The Sling Scope allows players to see where the bird is heading after being shot.
Birdquake: Birdquake creates an earthquake in the level. This will make structures collapse, killing the pigs.
Golden Eggs
In each level, there are Golden Eggs hidden throughout. If the player finds them, they will be able to access secret levels.