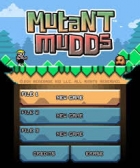 Mutant Mudds is a platformer developed by Renegade Kid, initially released for the Nintendo 3DS, followed shortly with a release for Microsoft Windows and iOS. A version, titled Mutant Mudds Deluxe, was released for the Wii U and then another version released for the Playstation 3 and Playstation Vita at the end of 2013.
Armed with a heavy-duty water cannon, Max has what he needs to vanquish his long-term nemesi: the Mutant Mudds. Max must blast and hover his way across the soiled landscape to seek out mysterious Water Sprites. Legend says collecting all of the mysterious Water Sprites will wash the filthy Mutant Mudds away for good!
Mutant Mudds Brainwaves
28th March, 0 replies

Renegade Kid, the team behind Mutant Mudds, Bomb Monkey, and the upcoming episodic series Moon Chronicles,...
Share Mutant Mudds with others