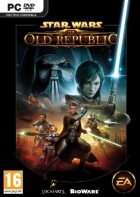 Star wars the old republic is an MMO developed by Bioware. SW:TOR is set further ahead in the starwars canon than Knights of the old republic. You can play as the Republic or as the Empire. With each character that you make you can be either light side or dark side regardless of whether you are Republic or Empire. SW:TOR will become a free to play MMO very soon, hopefully within 2012.
Star Wars: The Old Republic Brainwaves
24th April, 2 replies

Senior producer, Bruce Maclean, has announced via the game's official site that Galactic Strongholds,...
Share Star Wars: The Old Republic with others
Star Wars: The Old Republic