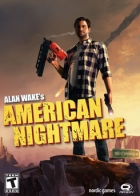 Alan Wake's American Nightmare is an action psychological horror game developed by Remedy Entertainment for Microsoft Windows and Xbox 360. Not a direct sequel to Alan Wake, the game is a spin-off and is framed by the narration of an episode of the fictional TV show, "Night Springs," that appeared on television screens throughout the original Alan Wake.
American Nightmare uses the same combat system as its predecessor, but is more battle-focused and contains much more ammunition and a wider variety of weapons.
Alan Wake's American Nightmare Brainwaves
18th February, 0 replies

Today Microsoft has kicked off a new sale. This sale includes a variety of indie and digital versions...
Share Alan Wake's American Nightmare with others
Alan Wake's American Nightmare