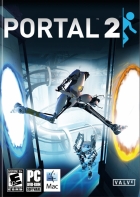 Portal 2 is a first-person puzzle-platform video game developed and published by Valve Corporation. It is the sequel to Portal and was released on April 18, 2011 for Microsoft Windows, Mac OS X, PlayStation 3, and Xbox 360. The retail versions of the game are distributed by Electronic Arts, while digital distribution of the Windows and OS X versions is handled by Valve's content delivery service Steam. Portal 2 was announced on March 5, 2010, following a week-long alternate reality game based on new patches to the original game.
The sequel's release on Steam was preceded by a second multi-week alternate reality game, the Potato Sack, involving 13 independently-developed titles which culminated in a distributed computing spoof to release Portal 2 several hours early.
Portal 2 Brainwaves
5th May, 0 replies

It looks like Valve's Portal series will make an appearance in the upcoming toy-to-life game Lego Dimensions. Eurogamer...

18th February, 0 replies

Today Microsoft has kicked off a new sale. This sale includes a variety of indie and digital versions...

17th November, 1 replies

Here we are - the closing of this generation of video game systems. The PlayStation 4 and Xbox One are...
Share Portal 2 with others