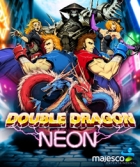 Double Dragon: Neon is an Action Beat-'Em-Up game developed for the PlayStation 3 and Xbox 360 by WayForward, published by Majesco Entertainment through the Playstation Network and XboxLive network.
Known for the beautiful aesthetics and renowned gameplay of A Boy and his Blob, Contra 4, Batman: The Brave and the Bold, and BloodRayne: Betrayal, WayForward is applying its focused attention to detail on Double Dragon: Neon. Taking place in a hyper-saturated omniverse, players beat up baddies across earth and beyond against the Black Dragon Clan's most nefarious leader yet-- the supernatural scourge Skullmageddon. You could go it alone, but why wouldn't you want to grab a buddy and take your game to the next level with drop-in, drop-out online 'Bro-Op'?!
Double Dragon: Neon Brainwaves
5th May, 0 replies

Microsoft has announced this week's Deals with Gold for Xbox Live Gold members. There are two games on...
Share Double Dragon: Neon with others