Skulls of the Shogun is a turn-based strategy inspired by the Advance Wars series and features turn-based combat between undead samurai in a feudal Japanese setting.
Using simply display to make the game as accessible as possible, commands are displayed in the corners of the screen and there is no grid system for movement. However, traditional action points is used to limit the players orders.
The General
Generals are the most important unit in the game, with the match ending if the General dies. Generals can meditate and earn +1 to max HP every round until they are awakened and once awake they can perform 2 actions per round, and are hard to kill.
Unit Health
Flags indicate Hit Points, or HP.Eating skulls heals HP and increases max HP. While targeting, flags show how much damage both units would take from the attack / counter-attack exchange.
Ranged vs. Melee
Melee attack units cannot counter-attack when hit by ranged-attack units from far away, making them vulnerable to other attackers. On the other hand, ranged attack units cannot counter-attack when hit by melee-attack units from up close and are in danger of death.
Additionally, melee attacks and spells can knockback foes with a flashing white line showing the direction any targeted unit will be knockedback. If a unit is knockedback over a ledge it will die instantly, but units in a Spirit Wall cannot be knockedback.
Carefully matching attackers and targets to avoid counter-attack and knockbacks is a key to victory!
Unit Orders / Actions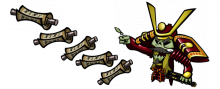 Orders are indicated by scrolls at the top of the screen. One order is used up each time you activate a new unit, with each team having 5 orders per round.
You can cancel a unit's move and reclaim an order ONLY before that unit does any action.
Movement
An activated unit can move anywhere within their outer white movement circle. The inner circle (that shrinks as a unit moves) indicates the remaining movement circle that unit would have after performing any action.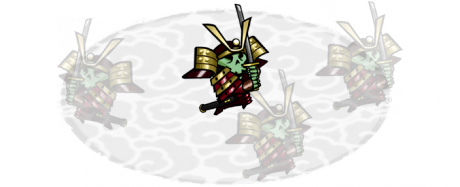 Attack
Units can attack with weapons and spells after movement, if they have leftover movement. The orange outer area of your attack radius indicates a chance your attack might miss.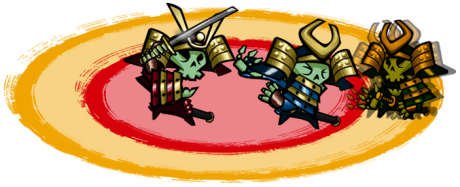 Haunt
Haunting takes control of land with bonuses for haunting certain buildingd. When haunted, a flame the color of the haunting team appears on any haunted space after one round and a unit cannot counter-attack while haunting.
When a Rice Paddy is haunted it will grant Rice.
When shrines are haunted they summon Monks. Each Monks type gain spells with each skull eaten:
Fox Monk: Healing
Salamander Monk: Destructive
Crow Monk: Wind & Troublemaking
and if an enemy haunts their Shrine, that monk dies.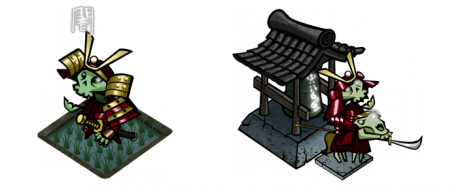 Eat Skull
Most units drop a skull when they die. Units can use their action to eat enemy or neutral skulls and heal 3 HP and gain +2 max HP (max HP limit is 12 HP, or 18 HP for generals).
Any unit that eats 3 skulls will turn into a Demon, gaining an extra action each round.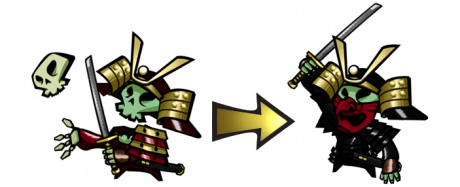 Spirit Walls
Spirit Walls are barriers formed by two or more nearby allies. They block enemy movement, attacks, & keep participating units from being knockedback.
Ranged-attack units, like Archers, can attack from behind Spirit Walls to avoid counter-attack, even against other ranged attack units.