Pre-order Bonuses
All pre-orders outside the US will be upgraded to the Overkill Edition, while in the US it is exclusive to Gamestop.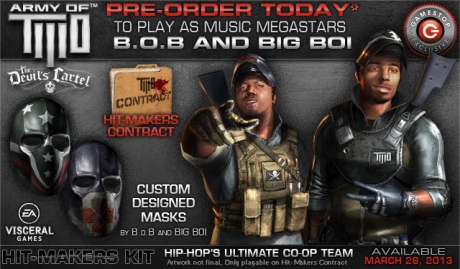 Gamestop
Gamestop pre-orders receive the Hit-Makers Kit, which includes hip-hop's ultimate co-op team megastars B.o.B and Big Boi (Chuy & Baker) in a bonus co-op mission and two custom designed masks.
Overkill Edition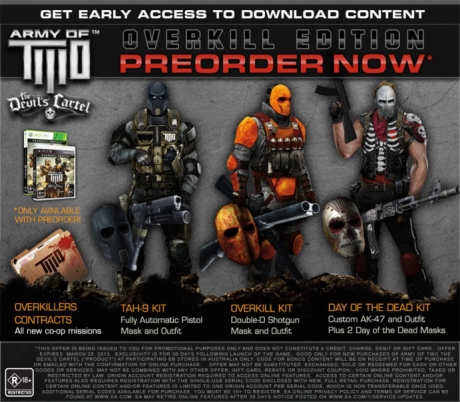 The Overkill Edition is an upgrade of the standard edition and will still cost the standard edition price. It includes the standard case, but includes the following DLC:
Tactical Co-op Gear
TAH-9 handgun - Unleash your fury with the TAH-9, the game's only fully automatic side-arm.
Polymer outfit and mask - Suit up and kick ass in sleek, professional style.
Overkill Extras
Overkillers contract - Take on new missions designed for non-stop frenetic co-op destruction.
Double-D Shotgun - Double the destruction with the only two-barrel shotgun in T.W.O.'s arsenal.
Overkill outfit and mask - The perfect uniform for maximum destruction.
Celebrate Day of the Dead
Day of the Dead Outfit - Celebrate this Mexican holiday by putting the spirits of your cartel enemies to rest.
Day of the Dead AK-47 weapon - Become an angel of death with this awesome weapon.
Day of the Dead masks - Put on the face of fear with two custom-designed masks by renown tattoo artists.