Earth Defense Force 2025 is a third person shooter, with an emphasis on shooting enemies and surviving. You control one of four different classes, with access to plenty of missions where the main objective is to destroy all of the enemies. If the game follows previous entries, then each mission will have multiple difficulties that can be set, including Inferno which is the hardest.
Classes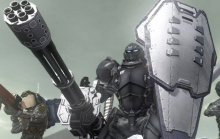 Like with Insect Armageddon, this game offers the choice of different classes for the player to choose. Each one has their own strengths and weaknesses, such as the Fencer being heavily armored and not as quick as the others, and the Air Raider being able to call in vehicles for use.
Missions & Difficulties
The game is split into missions, where the sole objective is to destroy all of the enemies in the stage. There is a total of 85 missions in the base game, with more being offered in the various DLC packs (43 more, at least). Each mission has five different difficulties associated with it, ranging from Easy, Normal, Hard, Hardest and Inferno.
Progression
Unlike Insect Armageddon, which allowed the various classes to be leveled, 2025 does not do that. Instead, as you kill enemies during missions, they will sometimes drop Armor pickups, as well as weapons. This is completely random and enemies in higher difficulties will drop more powerful weapons. This encourages players to repeat missions to get stronger.