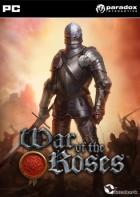 War of the Roses is a team based third person action video game developed by Fatshark for Microsoft Windows. Set in 15th century England, two rival branches of the Royal House of Plantagenet - the house of Lancaster (the reds) and the house of York (the whites) - fight over the throne.
Thrown into the fray, the player must live through the inventive years of 1455-1485 filled with conflict, treachery and bloodshed. With the introduction of gunpowder, warfare changed as the old and new clashed on the battlefield and personal vendetta motivated the desire for war.
War of the Roses Brainwaves
5th April, 1 replies

War of the Vikings comes to us from Fatshark - the makers of War of the Roses. With that game selling...

26th February, 0 replies

War of the Roses est un jeu d'action RPG à la 3e personne en équipe qui se passe au 15e siècle pendant...
Share War of the Roses with others