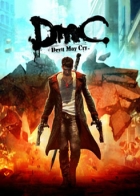 DmC: Devil May Cry is an action/adventure title developed by Ninja Theory and published by Capcom for PlayStation 3, Xbox 360 and Windows PC. The game subsequently received an enhanced port to Xbox One and PlayStation 4.
A reboot of Capcom's popular Devil May Cry franchise, it features a younger and a more brash Dante. It takes place in Limbo City, a town where humans are secretly controlled and manipulated by demons through a soft drink known as Virility. Unbeknownst to Dante, the demons seek him out and when they find him he is through into a dimension also known as Limbo. Meanwhile, a "terrorist" organization known as The Order, fight for control of the city and Dante may just be the tool they need to win.
DmC: Devil May Cry Brainwaves
16th April, 0 replies

A remastered version of the DmC: Devil May Cry game was released in North America and Europe on March...

23rd January, 0 replies

Ninja Theory's DmC: Definitive Edition has been given a new trailer that shows off the title's upgraded...

12th August, 0 replies

Ninja Theory, the developers most well-known for Heavenly Sword and, more recently, DmC: Devil May Cry,...
Share DmC: Devil May Cry with others