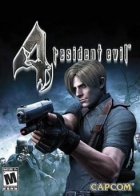 Resident Evil 4 is a revolutionary 3rd Person Survival Horror game developed by Capcom as originally part of Capcom 5, 5 Capcom titles exclusive for the GameCube. This entry stars Leon S. Kennedy, lead of Resident Evil 2, in his new job looking for the President's daughter in Europe.
The game takes place in an over-the-shoulder third person view instead of dramatic camera angles of the earlier entries. You are faced with the violent natives soon after starting the game, called the Ganados and must kill them discovering the secret behind the kidnapping
Resident Evil 4 Brainwaves
9th April, 0 replies

Shinji Makami and his team at Tango Gameworks have been working hard to set the bar for survival horror...

22nd January, 0 replies

The beloved fourth entry in the horror/action series Resident Evil has seen its fair share of platform...

21st January, 0 replies

Resident Evil 4 Ultimate HD Edition has been announced for PC digital download on Steam and at retail. PC...
Share Resident Evil 4 with others